Over the next few days I will be posting about a number of the most interesting seats in the NSW election, including a breakdown of the seat's results by sub-area, and maps of booth results. The first seat today is Lismore.
Lismore has been the most captivating seat so far in the election, with a large swing to the Greens and Labor putting the Greens in with a chance of winning a Nationals seat that was held with a margin of well over 20%.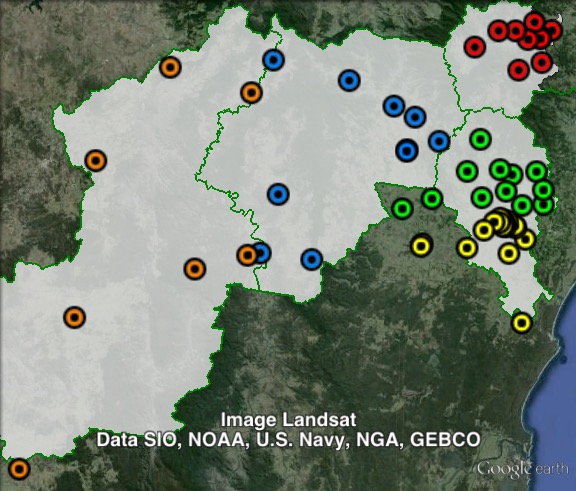 In my pre-election guide, I split up the polling places in Lismore into five sub-areas. A majority of the seat's population lives in the City of Lismore, with the remainder of the seat split between Kyogle, Tenterfield and Tweed council areas. Lismore covers all of Lismore, Kyogle and Tenterfield councils, but only a small part of Tweed council, covering Murwillumbah.
I split these booths into five parts: Kyogle, Tenterfield, Tweed, Lismore South and Lismore North. Lismore South covers the town of Lismore, as well as a few rural booths to the south, while Lismore North covers rural booths to the north, including Nimbin, Bexhill and Goolmangar.
Prior to last weekend's election, there was already a wide variation in the vote between these areas. The Nationals vote ranged from 48% in Lismore North to 66% in Lismore South. The Greens vote ranged from 15.7% in Lismore South to 35.9% in Lismore North. Labor's vote peaked at 16% in Tweed.
Tenterfield was an unusual case, because a large majority of voters in that area had been part of the independent seat of Northern Tablelands in 2011, before being redistributed into Lismore.
Voter group
NAT %
GRN %
ALP %
NATsw
GRNsw
ALPsw
Total
% of votes
Lismore South
40.4
26.5
27.6
-25.6
10.7
14.3
13,256
29.9
Tweed
38.7
28.5
28.0
-14.4
4.4
11.9
5,867
13.2
Lismore North
27.5
48.7
19.5
-20.6
12.8
7.7
4,328
9.8
Kyogle
46.0
24.3
24.2
-18.2
6.4
11.1
3,300
7.4
Tenterfield
55.8
14.5
22.9
13.2
9.6
15.9
1,906
4.3
Other votes
48.4
20.6
25.6
-10.8
4.1
13.7
15,719
35.4
Looking at this table, you can see widening trends. The Nationals vote went down everywhere except Tenterfield. The Nationals were hit particularly hard in the Lismore area. In Lismore South (covering the town of Lismore) the Nationals dropped 25.6%. Even in the Greens heartland of Lismore North, the Nationals vote dropped over 20%.
Overall there was a bigger swing to Labor than the Greens. Labor overtook the Greens in Lismore South, and also stayed ahead of the Greens in Tenterfield. In every region except Lismore North, the swing to the Greens was smaller than the swing to Labor. Despite this, the Greens gained positive swings in every area, ranging from 4.4% in Tweed to 12.8% in Lismore North.
What follows is the booth maps showing results. I've included seatwide maps for the Nationals, Greens and Labor, and zoomed-in maps for the town of Lismore. I've also included maps showing which out of Labor and the Greens had a higher vote in each booth, which is useful for understanding how the Greens stayed ahead of Labor. Labor outpolled the Greens in most booths in Kyogle and Tenterfield, along with booths around Murwillumbah. The town of Lismore was split down the middle, with the Greens polling higher in the north-west and Labor in the south-east.