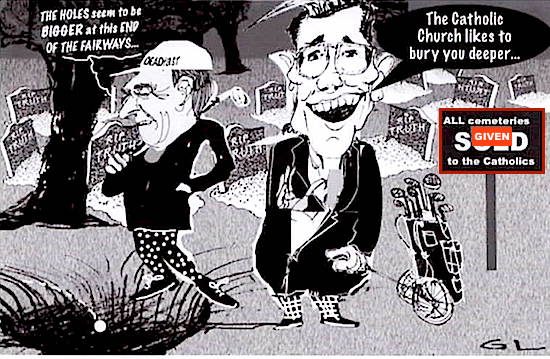 on the fairwayDominic Perrottet's five-man "Catholic Cabinet" rushed through a deal to deliver control of Sydney's cemeteries, ergo $5bn in capital, to the Catholic Church, in defiance of independent expert advice. Callum Foote reports.
Evidence emerging from Gladys Berejiklian's ICAC inquiry shows alarming similarities to the way in which senior MPs in the NSW Coalition government are pushing for the Sydney Catholic Archdiocese to be given control over Sydney's vast cemetery network. 
The cemeteries are set to run out of space in under a decade, and its operators are about $300 million in debt. In 2020, the NSW government developed a proposal to amalgamate Sydney's five cemetery operators into a single efficient operator: OneCrown.