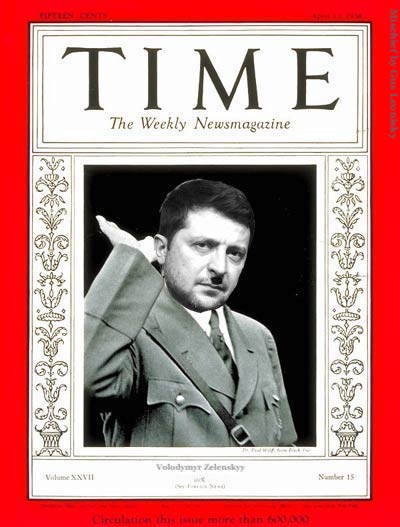 AS USUAL TIME MAGAZINE FALLS INTO THE SLOP. IN 1936, HITLER WAS ON THE FRONT COVER AND BY 1938, HE WAS THE PERSON OF THE YEAR.
HOPEFULLY, ZELENSKY WILL VANISH IN THE SAME MANNER AS HIS IDOL (HITLER/BANDERA) BEFORE HE SETS THE WORLD ON FIRE. LET'S NOT BE COY ABOUT THIS TURD. HE HAS PUSHED NATO TO START WW3 WITH RUSSIA. HE HAS PUSHED NATO TO USE NUKES AGAINST RUSSIA. PLEASE!
NOTE THAT TIME MAGAZINE HAD TO TART THE COVER UP WITH A WHOLE LOT OF OTHER PEOPLE TO PUSH THE POINT HOME, JUST IN CASE A SIMPLE PHOTO OF VOLODYMYR WOULD NOT SUFFICE.