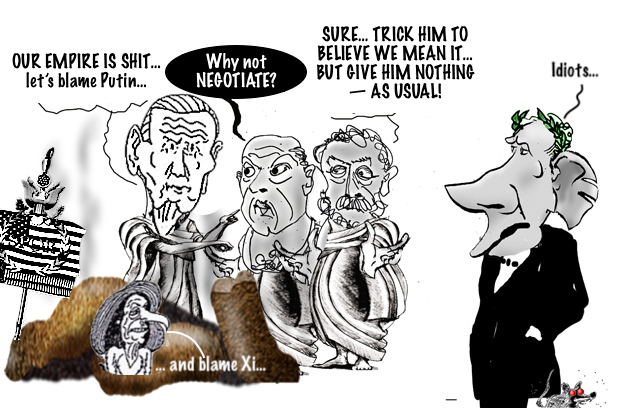 BEFORE READING THE ARTICLE THAT FOLLOWS, PLEASE CONSIDER:
THE WEST IS AFRAID/IRKED OF HAVING TO GIVE ANYTHING TO RUSSIA.
YET ANY NEGOTIATIONS HAVE TO PLY TO RUSSIA'S FAIR DEMANDS (THESE WON'T CHANGE, EXCEPT IN RUSSIA'S FAVOUR AS THE CONFLICT GOES ON. THE WEST KNOWS THIS):
*NO NATO IN UKRAINE.
*CRIMEA IS RUSSIAN
*THE DONBASS REGIONS ARE NOW RUSSIANS BECAUSE KIEV REFUSED TO ACCEPT THE MINSK AGREEMENTS
*FORMALISED WESTERN NON-AGGRESSION AGAINST RUSSIA (AND CHINA).
BIDEN* DOES NOT WANT TO GIVE ANYTHING TO RUSSIA, THUS THERE IS NOTHING TO DISCUSS. 
*BIDEN IS A DUPLICITOUS SENILE IDIOT WHO HAS LONG LOST THE PLOT AND NEEDS A TELEPROMPTER TO THINK.
PUTIN HAS MADE EVERYTHING CLEAR LAST YEAR:
*RESPECT THE MINSK AGREEMENTS