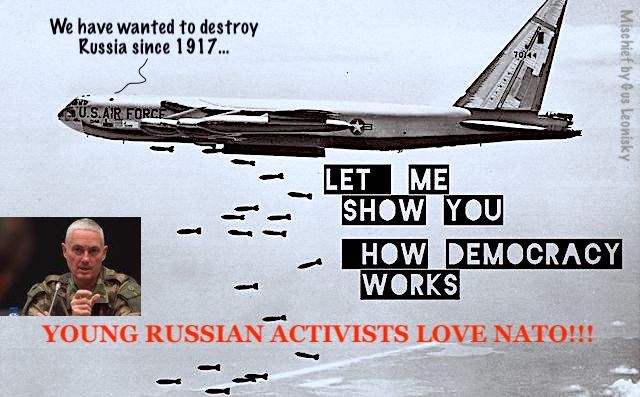 IF YOU'RE YOUNG AND IDEALISTIC, YOU SHOULD HATE YOUR GOVERNMENT. WHETHER RUSSIAN, FRENCH, AMERICAN OR BRITISH, YOUR GOVERNMENT IS THERE TO ANNOY YOU. I AM POLITE. 
AND YOUR PARENTS! YOU LOVED THEM UNTIL THEY HAVE MADE YOUR LIFE A MISERY ON THE DAY YOUR MUM ADVISED YOU AGAINST HAVING YOUR BELLY BUTTON PIERCED, BECAUSE OF THIS AND THAT GERM. BEAUT! READ WHATSERNAME (OF THE VICAR OF DIBLEY'S FAME) BORING BOOK WITH NORA IN IT TO CONFIRM THIS... 
SO, THERE ARE WEBSITES DEDICATED TO TURN PEACEFUL YOUTH INTO LITTLE REBELLIOUS STINKING THINKERS. I SAY STINKING THINKERS, AND NOT PHILOSOPHERS, BECAUSE UNTIL ONE REACHES A CERTAIN LEVEL OF UNDERSTANDING WHICH IS NEVER PASSED A CERTAIN AGE, LIFE IS A MIRAGE WITH RASP (I MEAN RAP) MUSIC AND BORING DANCING GIRLS.
AND AS A YOUNG RUSSIAN REBEL (ACTIVIST) YOU LOVE NATO.