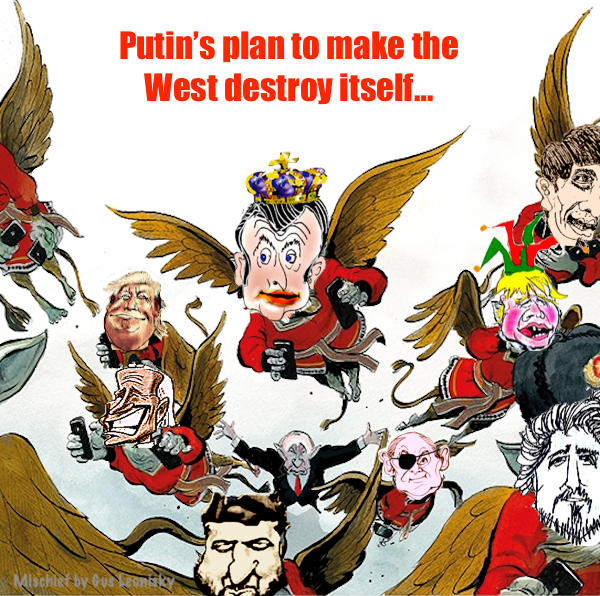 IT IS IRONIC THAT THE WEST THINKS THAT PUTIN IS TRYING TO DESTROY THE WEST. IN REALITY, AMERICA HAS HAD WET DREAMS ABOUT DESTROYING RUSSIA, SINCE 1917…
SO, HOW CAN PUTIN DESTROY THE WEST? THE GENERAL COMMENTARIATIC VIEW OF MANY GARBOLOGISTS IN THE WESTERN MEDIA GUTTER IS THAT "PUTIN IS GOING TO LET THE WEST DESTROY ITSELF". 
WOW! TO SOME EXTEND, THIS IS EASIER THAN IT LOOKS. THE WEST IS CRAPPING ON ITSELF WITHOUT ANY HELP FROM PUTIN, EXCEPT A LITTLE INTERVENTION IN UKRONY TO SANITISE THE KIEV REGIME AWAY FROM FASCISM, NAZISM, CORRUPTION AND A WILLINGNESS TO BECOME A NASTY NATO FRONT SHOP CONTRARILY TO PROMISES MADE FOR SACRIFICIAL SELF-IMMOLATION OF THE USSR TO UNIFY GERMANY. THANK YOU... THAT'S IT.